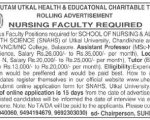 Date Posted: 18th January 2022 Faculty Recruitment job notification announced by Sushrutam Utkal Health & Educational Charitable Trust, Odisha for the Post of Assistant Professor/...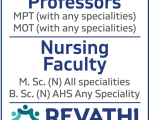 Date Posted: 27th December 2021 Faculty Recruitment notification announced by Revathi Institutions, Tirupur, Tamilnadu for the Post of Assistant Professors/ Nursing Faculty Jobs. Eligible candidates...
MES College of Nursing,Malappuram, Kerala announced Jobs Vacancy for the Academic year 2021-2022. College Profile:MES College of Nursing was started in the year of 2004...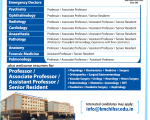 Faculty recruitment 2021 Job vacancy notification announced by the KMCH Medical College & KMCH Institute of Health Sciences and Research, Coimbatore, Tamil Nadu -...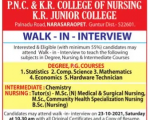 Teaching Jobs vacancy notification announced by P.N.C. & K.R. Degree College and Nursing College, Guntur wanted Teaching Faculty for 2021-2022 academic calendar year. Eligible...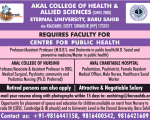 Faculty recruitment 2021 Job vacancy notification announced by Akal College of Health & Allied Sciences Eternal University, Baru Sahib, Himachal Pradesh - Professor, Associate...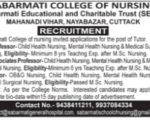 Sabarmati College Of Nursing, Cuttack wanted Professor/ Associate Professor and Tutor for the academic year 2021-2022. Eligible candidates can apply through Postal within 15...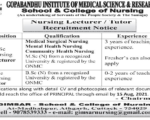 Faculty Recruitment 2021 notification announced by Gopabandhu Institute of Medical Science and Research, Cuttack, Odisha - Nursing Lecturer/ Tutor Jobs,  Eligible candidates may apply...
Indra Ganesan College of Nursing, Tiruchirappalli, Wanted Assistant Professor/Associate Professor/Professor for 2021-2022 academic year. Eligible candidates can Apply Online within a week from 9th...