Post Date:  13th October 2023
University Name: P.A College of Engineering
University Profile: The P.A. Educational Trust was established in 1999 with a mission to deliver quality education at par with global standards. The Trust through its various educational institutions is committed to mould the new generation with knowledge, ethics and social responsibility. With Dr. P.A. Ibrahim, a renowned educationalist and philanthropist at the helm of affairs, the Trust is well equipped to groom talents and turn them into top quality professionals with deep knowledge and strong ethics.
In the initial years of establishment of the Trust, it envisioned and succeeded in establishing P.A. College of Engineering (PACE) which is now a renowned college in this geographical area. The college is affiliated to Visvesvaraya Technological University (Belgaum), approved by AICTE (New Delhi) and recognized by the Govt. of Karnataka as a minority institution. The institute offers both undergraduate programme (Bachelor of Engineering) and Post Graduate Programme (Master of Technology). Seven departments are recognised as University Research Centres which offers Ph.D/ M.Sc based on the research work. In 2009 P.A. College of engineering became the very first institution to acquire the post coveted NBA accreditation in the district of Mangalore (D.K).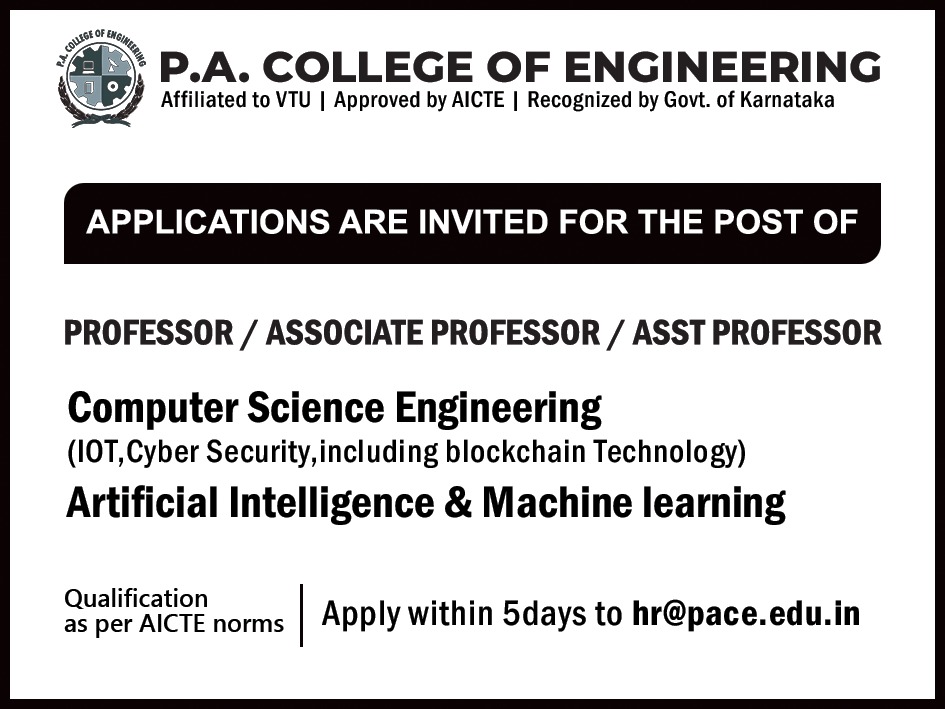 College Address:
P.A. College of Engineering,
Nadupadav, Montepadav Post, Kairangala,
Mangalore – 574153,
Karnataka, INDIA.
Reference: Official Advertisement