Daily Archives: September 12, 2021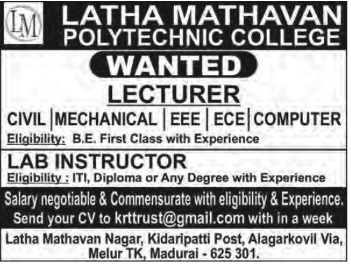 Teaching Jobs vacancy notification announced by Latha Mathavan Polytechnic College, Madurai, Tamilnadu for the 2021  academic calendar year. Eligible candidates may apply through Email. Post...
We are happy to inform you that KL Deemed to be University having immediate requirement for "Reasoning Trainers" in Communication & Soft skills Department. (CSS) University Name: KONERU...
University Name: KONERU LAKSHMAIAH EDUCATION FOUNDATION University Profile: KL Deemed to be university was established in 1980-81, as KL College of Engineering, which was upgraded...
Staff recruitment 2021 Job vacancy notification announced by Vel Tech Rangarajan Dr.Sagunthala R&D Institute of Science and Technology for the 2021-2022 academic year. Eligible...
College Name: ONE SCHOOL OF BUSINESS College Profile: ONE School of Business Welcome to the institution dedicated to creating tomorrow's leaders and today's pioneers. ONE School of...
K L Deemed to be University has meticulously planned to make all the eligible and interested students employed. The University had installed the infrastructure,...