Tags
Assistant Professor Jobs in Rajasthan
Tag: Assistant Professor Jobs in Rajasthan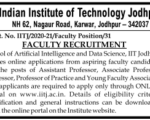 Indian Institute of Jodhpur (IIT Jodhpur) invites Professor/ Associate Professor and Assistant Professor for the academic year 2021. Eligible candidates may apply immediately Post Date:...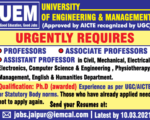 University of Engineering and Management, Jaipur wanted Assistant Professor/ Associate Professor and Professor. For the Academic year 2021.  Eligible candidates can Email within 10th...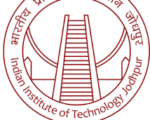 Teaching Faculty recruitment 2021 job vacancy notification announced by Rajasthan Medicare, Jodhpur, Rajasthan for the academic year 2020-2021 for the post of Assistant Professor...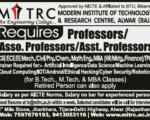 Teaching Jobs vacancy notification announced by Modern Institute of Technology and Research Centre, Alwar, Rajasthan in Times of India Epaper for the 2020-20201 year....
Faculty recruitment vacancy notification announced by The LNM Institute of Information Technology, Jaipur, Rajasthan for the 2020-2021 academic calendar year. Eligible candidates may...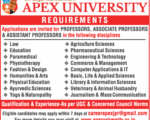 Post Date: 16th December 2020 Name of the College: Apex University College Profile: The Apex Foundation is having various Institutes of national level reputation & importance with excellent...